What we can do for you

Engagement Models
Audits
We assess your Salesforce configuration, pinpoint improvements and prescribe corrective actions.
Projects
We can oversee and execute your Salesforce project end-to-end and ensure that it's successfully delivered on time, and within budget.
Quickstarts
New to Salesforce? Don't worry. Our Quickstart packages are designed to implement a variety of Salesforce clouds quickly, efficiently, and effectively.
Managed Services & Support
We can offer you a dedicated team of Salesforce experts to help you support, maintain, and enhance your Salesforce instance.
Staff Augmentation
Fill a specific position, or enlist an entire team of Salesforce experts to power your organization using our staffing services.
Support Buckets
Choose from a range of flexible hourly service options for your Salesforce support needs.

Product Expertise

Sales Cloud

Service Cloud

Marketing Cloud
Experience Cloud

CPQ

Pardot

Services
Consulting
Our certified consultants help advance your capabilities and realize your Salesforce implementation's full potential.
Implementation
Our team of certified experts can help you implement and customize the full suite of Salesforce products.
Development
We develop custom Force.com components to expand your Salesforce with web interfaces, triggers, buttons, etc.
Integration
We can integrate your Salesforce instance with the different external systems that your operations run on.
Data Migration
We can help you migrate all of your current and historic data from a legacy system into Salesforce directly.
Reporting
We can build reports and dashboards that can help you visualize your key business metrics in real-time.

Product Expertise
Sales Cloud
Our Sales Cloud implementation will help you manage and track sales from lead generation to close won opportunities.
Service Cloud
Configure Service Cloud to streamline your customer service processes and interactions to be more efficient and accessible for your end user.
Marketing Cloud
Implement Marketing Cloud to drive personalized journeys across multiple platforms, capture high-quality leads and increase marketing efficiency.
Experience Cloud
Bring together your partners, customers, and employees into one platform via the Experience Cloud, where they can collaborate seamlessly and efficiently.
CPQ
Setup your CPQ to get custom pricing plans, generate quotes, manage sales contracts, monitor and manage both orders and renewals, automate your invoicing processes, and more.
Non-Profits (NPSP)
Implement NPSP to improve relationships with donors, grantmakers, and affiliates. Provide leadership with a 360 degree overview of the organization's operations.
What we can do for you

Engagement Models

Product Expertise

Services
Get your free customized action plan
We meet with you to understand your needs, your current and desired business process and goals.
We prepare a report of our findings and ideas on potential solutions and processes to outline an actionable roadmap moving forward.
We present our solutions to help you overcome your current challenge. We will include a project plan and pricing for you to consider.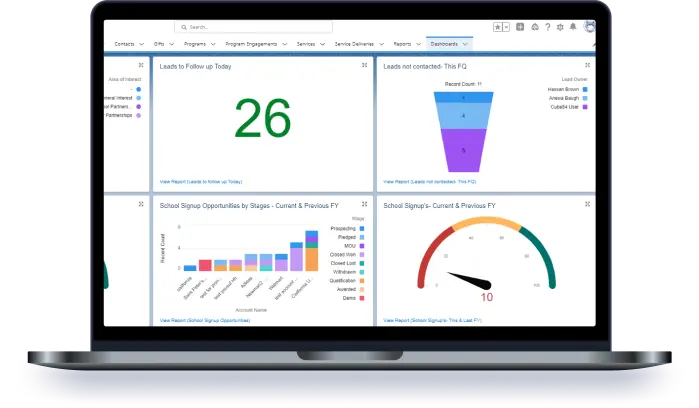 CUBE84, Your Top-Rated Salesforce Certified Partner
When it comes to Salesforce, we're whatever you need us to be. Whether it's a full-blown implementation of Salesforce from scratch, or a simple audit of your existing configuration, we're here to help drive your organization to new heights with the power of Salesforce.

CUSTOMERS

ENGAGEMENTS

TEAM MEMBERS

YEARS IN BUSINESS
Our team of experts
CUBE84's team is ready to help you make the most of the Salesforce platform with a process-oriented approach.
Solution Architects
Project Managers
Business Analysts
Administrators
Developers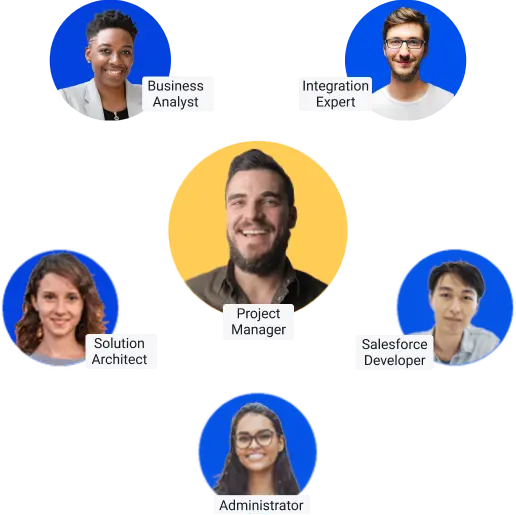 Our Testimonials
"Thanks to CUBE84, our operations have been streamlined and we will continue to use them for improvements to our Salesforce platform."

Kellen Parrish
Senior Program Officer,
Partners of the Americas

"We asked CUBE84 to build out two custom applications in Salesforce and our experience was incredible. We all really appreciated how much they value customer input and emphasize usability."

Daniel Bramley
Planning and Placemaking Assistant,
DowntownDC BID

"CUBE84 are problem solvers, proactive and highly responsive, flexible and have worked with us to simplify workflows & automations, improve analytics, and more."

Susanna Palmer
VP Marketing,
Bricata

Get your free tailor-made project plan