Elevate Your Analytics With Custom Reports And Salesforce Dashboards
Unlock invaluable insights and drive informed decisions with Salesforce Reports and Dashboards customized to your teams.

Identify Trends and Opportunities

Integrate with BI Tools

Automate Routine Reports
Optimize Business Performance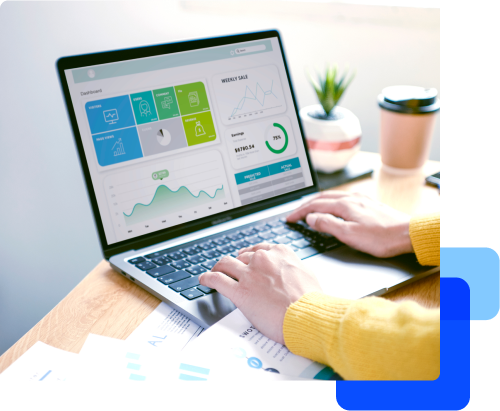 Why Choose Us For Handling Your Salesforce Reports & Dashboards

Expertise
Leveraging our extensive experience in Salesforce reporting and analytics, the CUBE84 team can help you unlock the full potential of your Salesforce data.

Customization
A customized approach to Salesforce reporting services means tailoring our solutions to meet your specific needs and goals.

Business Insights
Drive business growth and success with actionable insights, leading to informed business decisions.

Comprehensive Services
Our range of Salesforce reporting services includes customized dashboards, ad hoc reporting, data visualization, predictive analytics and Business Intelligence tools integrations.

Improved Efficiency
Boost efficiency and productivity by automating routine reporting tasks and real-time access to critical data.
Key Features Of Our Salesforce Reports & Dashboards Services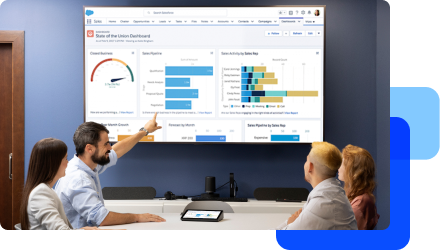 Account Reports
Gain a comprehensive understanding of your customer base with Accounts Reports. These reports provide valuable information about customer profiles, interactions and key metrics. Uncover patterns, trends and opportunities to optimize your sales strategies and nurture customer relationships.
Opportunity Reports
Unlock the potential of your sales pipeline with Opportunity Reports. These reports allow you to track and analyze your sales opportunities, identify bottlenecks and prioritize activities. Dive deep into win rates, deal sizes and conversion rates to fine-tune your sales approach and maximize revenue generation.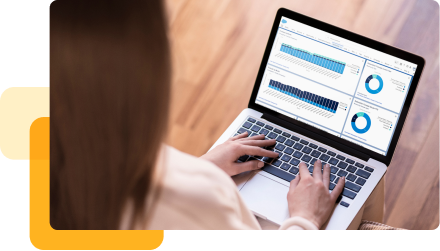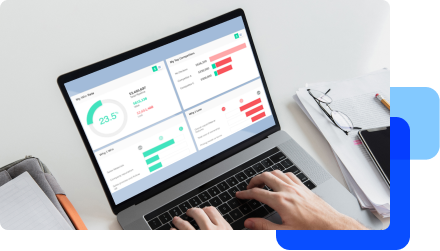 Lead Conversion Reports
Dive into the effectiveness of your lead conversion process with Lead Conversion Reports. These reports provide valuable insights into lead conversion rates, conversion trends and lead source performance. Identify successful conversion strategies, analyze conversion bottlenecks and optimize your lead.
Service Level Agreement (SLA) Reports
Monitor and measure your customer service performance with SLA Reports. These reports help you track key metrics such as response times, resolution times and customer satisfaction scores. By analyzing SLA performance, you can identify areas for improvement, ensure compliance with service agreements and enhance customer service delivery.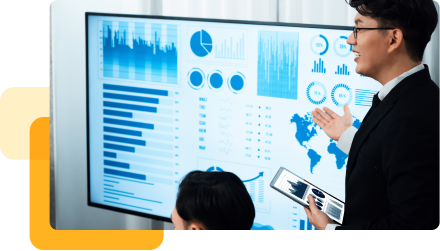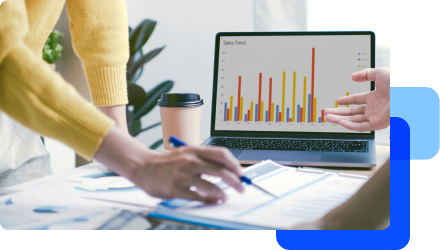 Sales Dashboards
Visualize your sales performance at a glance with Sales Dashboards. These dynamic, real-time dashboards provide an intuitive and interactive way to monitor key sales metrics and KPIs. Customize your dashboard to showcase pipeline stages, revenue forecasts and team performance, empowering you to make data-driven decisions and drive sales growth.
Ready to transform your data into actionable intelligence?
The Impact Of Our Salesforce Reports & Dashboards Services
1
Customized Dashboards
Our experts help you create customized dashboards that provide a real-time view of your KPIs and enable making informed business decisions.
2
Identify Trends and Opportunities
Our data visualization and predictive analytics services help you identify trends, patterns, risks and opportunities that may otherwise be missed, enabling the making of proactive decisions driving business growth.
3
Integration with BI Tools
We help you integrate Salesforce reporting with your BI tools, such as Tableau, Power BI and QlikView, to provide a more comprehensive view of your business operations.
4
Performance Optimization
Our experts help you optimize your Salesforce reporting performance by automating routine reporting tasks to save time and improve efficiency.